Pakistan Remote Sensing Satellite (PRSS-1)
Pakistan has successfully launched its first Remote sensing satellite system (PRSS-1) on 9th July 2018 from Jiuquan Launch Site Center (JLSC), China. PRSS-1 is a Low Earth Orbit (LEO) sun-synchronous satellite and carries optical payload having spatial resolution of 0.98m in panchromatic and 2.89m in multispectral mode. It offers 4 day revisit capability anywhere on the globe.
Brief Specification
| | |
| --- | --- |
| Launched Date | July 09, 2018 |
| Orbital Position | SSO |
| Payload | EO Payload |
| Mission Life | 07 years |
| Ground Stations | Islamabad & Karachi |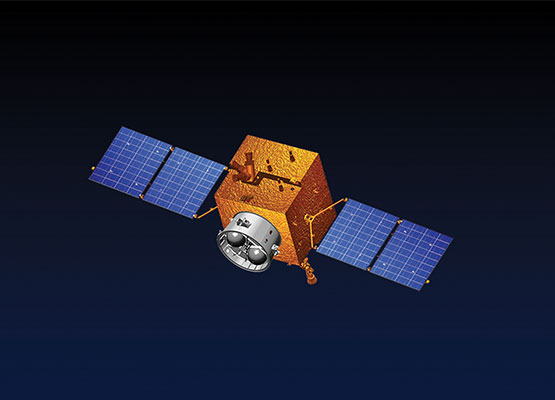 PRSS-1 is tailored to meet Pakistan's needs for high resolution imagery required by users for socio-economic development of the country, especially in the fields of land mapping, agriculture classification and assessment, urban and rural planning, environmental monitoring, natural disaster monitoring/management, water resource management and others. PRSS-1 imagery is also being used for monitoring and planning of mega infrastructure development carried out under CPEC. Moreover, the imagery collected from PRSS-1 will also aid the ongoing national afforestation campaign and identify suitable freshwater storage sites. The launch of PRSS-1 has made the nation self-reliant in addressing numerous challenges related to socio-economic uplift of the country.
Two Ground Stations have been established for the planning, reception, processing and archiving of satellites imageries in Islamabad and Karachi.
Benefiting from the technology, users can directly browse, view and order satellite based images right from their desktop. Catching upon latest trends, SUPARCO has launched a dedicated web portal for the products of PRSS-1 from where users can easily browse, place orders and download imagery products. For further details and imagery products, please visit our PRSS-1 Web Portal.
PRSS-1 offers following types of image products to its clients.
| Product Type | Resolution |
| --- | --- |
| Panchromatic | 0.98 meter |
| Multispectral | 2.89 meter |
| Bundle(Panchromatic+Multispectral) | (0.98, 2.89) meter |
| Pansharpened | 0.98 meter |
PRSS-1 Imagery products